Jackknife sofas are a mainstay of comfortable RV living. They provide the option of both comfortable seating while traveling or entertaining, and they double as an extra bed to sleep one or two more people.
Some RVs come with their own jackknife sofa preinstalled, but as with many RV amenities you may find that you want to upgrade what you've got for comfort quality.
There are a lot of options available, and that can make choosing the right one for your RV a difficult process.
To make that process easier, I've got some reviews and recommendations for you, as well as a buyer's guide to help you determine what best suits your needs. Check out what I've got for you.
COMPARISON CHART
IMAGE
PRODUCT
1. RecPro Charles Collection 70"

Converts from a sofa to a bed in seconds
6" mattress
Metal frame
Space saving design can fit through 22" doorways

LEARN MORE ►
2. RecPro Charles Collection 65" With Hide-a-Bed

Padded head, back and armrests
Pull our bed frame
5" twin-size memory foam mattress
All metal pull out bed frame

LEARN MORE ►
3. Lippert Components Thomas Payne 68"

High density foam cushions
Low-maintenance upholstery
Pet and child friendly
Kickboard included

LEARN MORE ►
4. Lippert Components Tri-Fold Heritage 62" to 72"

High density foam cushions
Padded armrests
Among the lightest jackknife sofas on the market
Storage options underneath the seats

LEARN MORE ►
OUR TOP 5 PICKS
#1 RecPro Charles Collection 70"
Specifications
| | |
| --- | --- |
| | |
| | |
| | |
| | |
| | |
| | Mahogany, Putty, Chestnut and Toffee |
The final word on fold-out sofa comfort, the RecPro Charles Collection 70" is one of the most comfortable and luxurious jackknife sofas money can buy. Not only does it provide the perfect RV sofa bed, but it is also built of some of the finest and most durable upholstery materials on the market. Whether you've had a long day at the beach or on the trail, this jackknife sofa is an investment you will not regret coming home to each day.
WHAT WE LIKE

WHAT WE DON'T LIKE

PROS/CONS OVERVIEW
When you choose to live the RV life full time, you often have to learn to live with certain sacrifices due to space and weight constraints. RecPro handily puts those sacrifices to rest with the 70" Charles Collection: this is one of the most comfortable couches and pull-out sofa sleepers ever. When they say in the brochure that you can convert this couch in seconds, that is a literal statement. Better still, it's got a rock-solid metal frame and high durability faux leather upholstery that will provide years of dependable comfort.
#2 RecPro Charles Collection 65" With Hide-a-Bed
Specifications
| | |
| --- | --- |
| | |
| | 48"W x 21"H x 71"D (from the ground) |
| | |
| | |
| | |
| | Mahogany, Putty, Chestnut and Toffee |
While this isn't a true "jackknife sofa", it is an elegant sofa/sleeper solution built with RVs in mind. It has a few advantages over the RecPro Charles Collection Jackknife sofa, but also its own set of drawbacks. 
WHAT WE LIKE

WHAT WE DON'T LIKE

PROS/CONS OVERVIEW
Pull out frame sleeper sofas have a significant advantage over jackknife sofas thanks to their separate mattress. It's much easier to put a fitted sheet and flat sheet over a mattress than to rig up some kind of bedding for the converted cushions of a jackknife sofa.
Additionally, while the jackknife sofa from RecPro is an inch thicker than the 65" pullout model, the pullout has a memory foam mattress independent of the seat cushions. The padding and armrest width on the 65" are also about 4" thicker than the jackknife model, providing an "overstuffed" luxury style seating experience.
#3 Lippert Components Thomas Payne 68"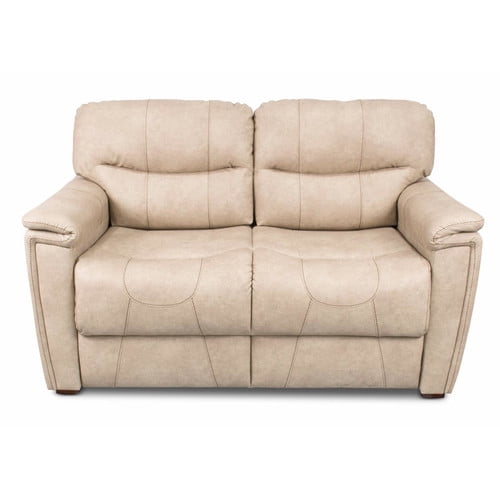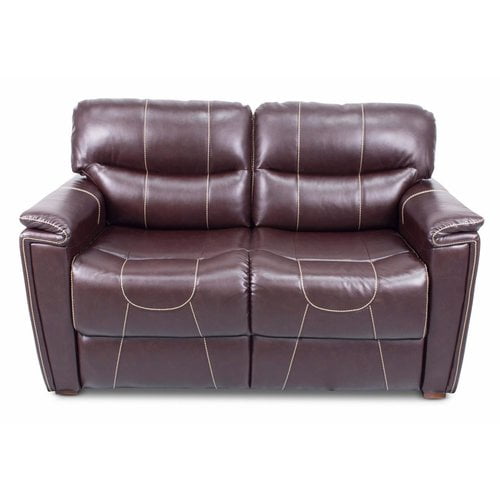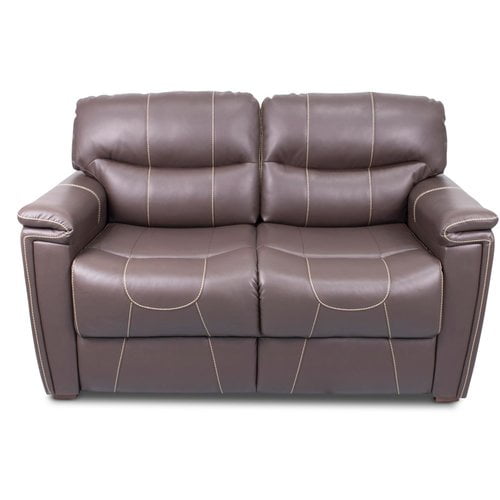 Specifications
| | |
| --- | --- |
| | |
| | |
| | |
| | 68.25"W x 11.25"H x 1.5"D |
| | |
| | |
If you want to upgrade or add a sleeper sofa on a budget, the Lippert Interior Components Thomas Payne Collection 68" Jackknife Sofa is an excellent option. This jackknife sofa is both easy to install in virtually any RV with a 26" doorway. Best of all, it's easy to maintain thanks to the high-quality, easy-to-clean and durable upholstery material, too.
WHAT WE LIKE

WHAT WE DON'T LIKE

PROS/CONS OVERVIEW
This is a simple, no-nonsense jackknife sofa. There's no need to account for armrests that take up extra space, or a pull out sleeper bed frame that adds significant weight to your RV's load. You can even use the space underneath behind the kickboard as additional storage. The cushions are extremely comfortable even when serving double duty as a mattress. 
#4 Lippert Components Tri-Fold Heritage 62" to 72"
Specifications
| | |
| --- | --- |
| | |
| Sleeping Surface Dimensions | |
| | PolyHyde Euro Leather Vinyl, Polyester Woven Fabric |
| | Oxford Tan, Oxford Walnut, Dunes Gray, Cobble Creek |
A true jackknife sofa with luxury appointments, the Lipper Components Tri-fold Heritage comes in three sizes and four different upholstery options. It's easy to install and much lighter than most jackknife sofas, making it an attractive option for RV owners looking for an easier installation or to lighten their load.
WHAT WE LIKE

WHAT WE DON'T LIKE

PROS/CONS OVERVIEW
This sofa looks and feels like a luxury sofa you might find in a high end furnished apartment or a hotel. The padded armrests and ample cushions make it the perfect choice for resting your feet or having a nap after a long day adventuring in the countryside or driving to your next destination. Additionally, the ability to use the space under the seats as storage is also an especially useful feature.
BUYER'S GUIDE
What are the benefits of a jackknife sofa?
You can easily add additional sleeping space to your RV with minimal changes or upgrades. Installing an RV jackknife sofa also provides you the option of using the space under the seats and kickboard as additional storage, too.
How to care for your jackknife sofa?
The answer to this question largely depends on the upholstery material. PU leather requires little maintenance and no special detergents or cleaners like real leather upholster. Spray it with a kitchen cleaner and wipe it down to clean up spills. If your jackknife sofa has poly-fabric upholstery (not common in RVs given how many people go to the lake or the beach), it can be shampooed or vacuumed and cleaned just like any other fabric upholstery.
How do you secure it to the RV?
Most installers use anchored leg stands for jackknife sofas. They aren't always included with the purchase, so plan accordingly. Some RVs even have pre-drilled bolt holes to accept sofa leg anchored stands, so with luck you'll just have to sink the included hardware into the correct holes and you're good to go. If you can't go the easy route, it's probably best to talk to an installer or have them mount the sofa legs for you if you aren't an experienced RV DIYer. You could potential damage plumbing, wiring or mechanisms in the floor of your RV if you don't know what you're doing.
How do you remove a jackknife couch from an RV?
If you already have a sofa (jackknife or otherwise), all you need to do is remove the bolts holding the anchors in place and drag your old sofa out of your RV. If it has a removable backrest, remember to take that off before you try to fit it through the doorway. Always work smarter, not harder.
How do you re-cover a jackknife RV couch?
Take the measurements of your jackknife couch and cushions with a measuring tape. If you aren't a craft-oriented person who knows how to sew, you can either pay someone to create slip covers for your jackknife sofa, or you can buy a set that fits the dimensions of your furniture. Stretchable slipcovers that conform to your existing furniture are a popular choice, as they last longer and require less work to install.
Are jack knife sofa comfortable?
Yes. Jack Knife sofa refers to one of the most comfortable sofas in the market. It features a long center console that can hide an additional bed and a large, flat surface that can be used as a table.
How do I make my RV jack knife comfortable?
A jackknife sofa will feature two separate sitting areas with the ability to flip them into a bed. In order to flip between the sitting and sleeping areas, you will have to remove the sofa cushions. You can check out this post for more information on how to make your rv jack knife comfortable



CONCLUSION
My top pick for RV jackknife sofas is definitely the RecPro Charles Collection 70". It's got excellent padding and upholstery, it can fit through a 22" RV door, and it is built out of solid, high quality materials. I'd be surprised if you ever had to buy another RV jackknife sofa ever again after purchasing one of these. Whether you are upgrading or want to add a new jackknife sofa to your RV, check out the RecPro Charles 70" first. It's truly a fantastic investment in your own traveling comfort.