Now that you have your RV, you're likely wondering about the logistics of towing your new vacation vehicle. It's no secret that all tow bars are not built the same. If you're wondering about the best tow bar to invest your money in, read further. We've reviewed five of the most popular tow bar brands, and list the best and worst of each one below.
You've worked hard to purchase your RV. Vacations should be worry free, and you should feel comfortable trusting the transportation of your investment.
In addition to the concerns covered in the buyer's guide that follows the reviews, it's important that you take the time to really consider how you plan to use your towbar. If you engage in general camping, or whether you tend to pick the rougher roads that transfer more road shock to your entire hookup.
The environmental conditions that you expose your towbar to have a lot to do with it's ultimate performance and longevity. Be sure that you have a firm idea of what you really need before selecting a towbar.
If you're new to the towing world, you might want to consider taking the towbar that you purchase to your dealer.
You should be able to call them and schedule an appointment at a local service shop.
The technicians there can help show you exactly how to properly engage a towbar for maximum stability, as well as how to attach the wiring so that your towed vehicle brake lights work as they need to.
Once you've had a walk-through of the process, it will be a lot easier for you to work it out on your own. It's a good idea to have your towbar inspected before you store your RV for the season, and to have a check of the mechanical systems before you take it on your first trip of the season.
After you decide on your purchase, take the time to review the movable parts of your tow package. Items like springs, spacers and pins are easily lost, bent or broken. If any of these small parts end up damaged on a trip, you could be facing a tow truck to get your RV home. Depending on the distance that you've traveled, this can be a very expensive ordeal.
Try to keep spares of these parts stored in your RV to help avoid this occurrence. Once you've made your selection, familiarize yourself with the hookup and have your spare parts ready, you can hit the open road with few worries.
Don't forget to check all of your fuses and your tow hitch before each use. Damage can be inflicted from the weight of your load, especially if you've driven over rocky or rough terrain. A quick check to ensure that everything is secure is always a good idea.
COMPARISON CHART
IMAGE
PRODUCT
1. Blue Ox BX7365 Alpha

6,500 pound capacity
Towbar is portable
Easy to connect and disconnect
Lot of security and stability

LEARN MORE ►
2. Smittybilt 87450 Ball

Very portable
Lightweight
Adapted to numerous vehicles
Two safety chains are included

LEARN MORE ►

3. Reese Towpower 7014200 Adjustable Tow Bar

Lightweight
Portable
Allows towing of up to 5,000 pounds.
Wide range for mounting options.

LEARN MORE ►
4. RB-9050 Ready Brute Elite

Foldable
Portable
Built-in braking system
Easily maneuvered

LEARN MORE ►
5. Roadmaster 520 Falcon 2

Foldable
Mountable to your RV
Easier for some users to connect
Autowork system is very easy to use

LEARN MORE ►
OUR TOP 5 PICKS
Specifications
| | |
| --- | --- |
| | |
| | |
| | Full Manufacturer's Warranty Applies |
The Blue Ox tow bar easily rose above all the competition in this review. With an easy, fold-away design, light carrying weight and a 6,500 pound carrying capacity, this towbar can be easily mounted on the back of your RV.
The bar features easy-release locking handles that allow you to disconnect with minimal effort, as well as quick disconnect hookup pins. The towbar is made of steel, with offset triple lugs for stability and proper alignment.
Also included are rubber boots, that help prevent road grime and grease from contaminating the towbar connections and 10,000 pound safety cables. The towbar measures 6.2 x 6.2 x 43.5 inches.
Of the five towbars in this review, this one carries the highest weight rating. It's a powerhouse of a towbar, and the added cables instead of chains for hauling help to limit the noise that you're subjected to when it's in use.
This towbar is constructed of solid steel and features easy-release locking handles.
WHAT WE LIKE

WHAT WE DON'T LIKE

PROS/CONS OVERVIEW
This towbar is very easy to connect and disconnect, one person is capable of setting up the towbar. The rubber boots add durability to the product and help to extend the life of your investment. The heavy-duty cables that are included with the towbar are a great bonus.
Video
With a total weight capacity of 5,000 pounds, his towbar is capable of towing a lot of heavy items. It features as two inch coupler and connects with either two universal brackets or two lateral strut brackets.
You can also use D-ring brackets, if you have a Smittybilt Bumper. The towbar includes a ⅞ spacer that will help to stabilize our towing package if attached with a D-ring.The bar comes equipped with two vehicle safety chains and weighs in at 32.7 pounds.
While this might seem to be a lot of spare parts to keep on hand, it can help ensure that whatever you need to pull, you'll be able to. If you alternate between the vehicles you take with you, it might be worth it to have a towbar that is highly adaptable.
Measuring 48 x 12 x 7 inches, the towbar is lightweight and small enough to be easily portable.
WHAT WE LIKE

WHAT WE DON'T LIKE

PROS/CONS OVERVIEW
While the towbar is very lightweight, it can tow up to 5,000 pounds. The numerous attachments options make this a good, general-use towbar while the included chains are great for added stability. With a total load weight at 5,000 pounds, it might not be able to pull the largest trailer, but it will pull most vehicles.
#3 Reese Towpower 7014200 Adjustable Tow Bar
Specifications
| | |
| --- | --- |
| | |
| | 11.25 x 5.25 x 20.25 inches |
| | |
Looking for a reliable and durable tow bar? Look no further than the Reese Towpower 7014200 Adjustable Tow Bar.
WHAT WE LIKE

WHAT WE DON'T LIKE

PROS/CONS OVERVIEW
This Class III tow bar is made of steel with a black powder coated finish, making it both sturdy and stylish. With a 5000 lb. capacity, it can easily handle your towing needs. The 2 inch ball coupler and pin & clip make for quick and easy attachment, while the base plate may be required for some vehicles. Safety chains are sold separately.
#4 NSA RV Products (RB-9050 Ready Brute Elite Tow Bar)
The Ready Brute Elite is designed with a Ready Brake system, that engages the towed vehicles brake without engaging the hydraulic system, which enables it to use up to 80 percent of the towed vehicle brakes to stop movement. This towbar is crafted of aluminum and weighs 48.2 pounds.
The patented brake system claims to reduce wear and tear on your hauling vehicle's brakes. It's a nice feature, but the actual braking results tend to vary according to the terrain and the weight of the vehicles. You might not realize the advertised slow-down on each stop, however, the towbar does help the following vehicle slow more rapidly.
Measuring 53.5 x 9.2 x 9 inches, it's a bit heavier than the other towbars that have been reviewed and is not as portable. The Clevis Connectors are sold separately from the towbar.
WHAT WE LIKE

WHAT WE DON'T LIKE

PROS/CONS OVERVIEW
The built-in braking system can decrease stopping times by 10 to 30 percent. While it is a larger towbar, it's still small enough to be easily maneuvered. This towbar has a level release system for connecting and disconnecting.
#5 Roadmaster 520 Falcon 2
Specifications
| | |
| --- | --- |
| | |
| | |
| | Full Manufacturer's Warranty Applies |
The Falcon 2 features the autowoik locking system, like all Roadmaster towbars. This is developed to allow one-person locking and unlocking for easy connection. It also has a large hookup radius, reducing your need to align and recenter to get it just right.
Can mount this towbar onto your motorhome when you reach your destination, and it's constructed with a full-length steel crossbar and stainless steel arms.
Weighing 50 pounds and measuring 44.8 x 65.7x 7.1 inches, it's capable of pulling up to 6,000 pounds.
WHAT WE LIKE

WHAT WE DON'T LIKE

PROS/CONS OVERVIEW
The autowoik locking system is a patented design, and is only available on Roadmaster models. Having a larger hook-up radius is a benefit when it comes to loading and unloading. The towbar is capable of folding for storage.
Video
BUYER'S GUIDE
Before you invest in a towbar for your RV, there are a few questions you need to ask yourself. These can help you decide on the best towbar package for your needs. As you look over our reviews, ask yourself the following:
How often will you need to tow your vehicle? Obviously, if you're a frequent tower, you'll want to select a towbar that's constructed of the most durable, high-strength materials. The last thing that anyone wants is to make it to their destination, only to have to call a tow truck to be able to leave. Take the time to carefully review the important construction notes, and if possible, carry extra springs and pins with you to avoid disaster.
Can you store it at the campground? Just setting a towbar to the side is not only an eyesore, it's a trip and fall hazard for anyone that comes around your campsite. Make sure that you can store you towbar at your destination to avoid accidents and enjoy your time.
Do you want to be able to move your RV in reverse while towing? To do that, you need a special sort of towbar. If it's not an issue or you never have the need to go in reverse, it's not something to worry about.
What are the towing weight limits for your RV? You'll find these in your user's manual. While these towbars might be rated for a specified amount of pounds, the number to go by is what your RV is rated to pull. If you try to pull over that limit, you'll cause some serious damage to your RV.
What type of towing brackets are on your RV? When it comes to towing, compatibility is key. You should always know the size and type of towing bracket on your RV hitch before purchasing a towbar, to ensure that you select the correct type that will provide the most secure connection.
How will you be using to tow bar? Towing seems like a simple deal, but there are two main ways to tow. One, called flat towing, is where the towed vehicle has all four feet on the ground. The other, referred to as dolly towing, is where the towed vehicle has two wheels on the ground. It's important to know this and use this in your towbar selection, because the angle differences can change a lot about how your tow package hooks up.
 It's also important to consider whether you will need to be able to connect your towbar on your own, or if you will have help. Several of the featured towbars are designed to allow one person to do the job easier.
CONCLUSION
For all-around use, the Blue Ox BX7365 Alpha is the best choice. Easy to use, store and capable of pulling substantial weight, this one outshone the rest. It's also constructed for heavy-duty work and is a pretty durable towbar.
For a second choice, the Smittybilt 87450 offers a decent weight limit while being formatted to attach to a wide radius. While it didn't make top choice due to the inclusion of chains instead of cables and the inability to connect to some bumpers, if it will work with your hitch set up, it's not a bad choice.
I hope this review has helped you realize all the different features towbars can offer. They may seem simple, but design specifics like load weight, material used in construction and hookup options can mean the difference between one that will work for your needs.
Summary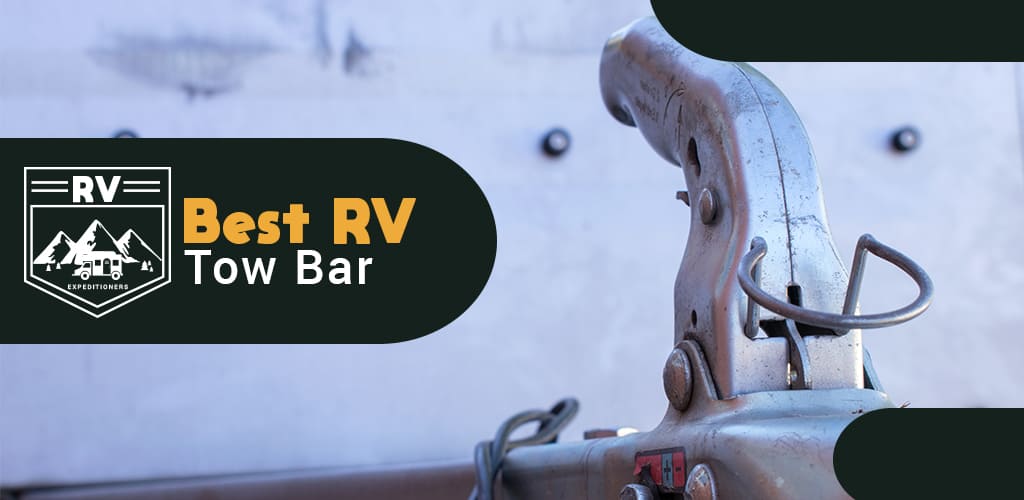 Article Name
Best RV Tow Bar in 2019? (Top 5 Reviews with Comparison)
Author
Publisher Name
Publisher Logo