RV campgrounds are a stable to campers in California each year. Depending on what you are looking for, there is a campground for everything. Campers can park their motors anywhere from Yosemite to Crystal Cove State Park. 
RVers look for different things. Some may want rustic areas while others want something more glamorous. You should also take into consideration rates and space when deciding which campground is for you. If you are trying to plan a summer trip, let's go over some of the best RV campgrounds in California.
You will find an awe-inspiring destination that the whole family will surely love. 


1. Redwood National Park
Redwood National Park is home to some of the largest redwoods on the planet. The atmosphere is calm and peaceful with the huge trees. Because of the trees' size, they offer a wonderful view and shaded ambiance.
The campsite also has historical value to it as well. Some of the trees are over a century old. UNESCO protects Redwood National Park as a heritage park.  Many people come to Redwood to picnic and enjoy the wildlife.
There are multiple campgrounds in Redwood, including Jebediah Smith, Mill Creek, Elk Prarie and Gold Bluffs. These campgrounds do not have hookups. Both Elk Prarie and Gold Bluffs do not allow trailers.
Elk County RV Resort and Campgrounds is the most recommended campground near Redwood National Park.
Pros about Elk County Resort
30-minute drive from Redwood National Park
Convenient full hook ups
Good pricing
Elk wildlife 
Beach access
Cons about Elk County Resort
No service
WiFi is not reliable
Showers cost money
Tent camping is subpar 
2. Anaheim RV Park
This RV park is in South California. There are many things to do at this RV park. It is ideal for all members of the family. Whether you want to spend the day at Huntington Beach, or travel to Disneyland, Anaheim RV Park is the perfect location.
There are electrical hookups that are conveniently located. Laundry facilities also make it easy for families to clean up before heading on the road again. 
Pros about Anaheim RV Park
Disneyland shuttles every 20-30 minutes
Major amenities throughout the park
Fireworks are visible from Disneyland
Cons about Anaheim RV Park
More expensive due to location
Bathrooms often have issues
Possible safety concerns due to lack of fence
3. Yosemite RV Resort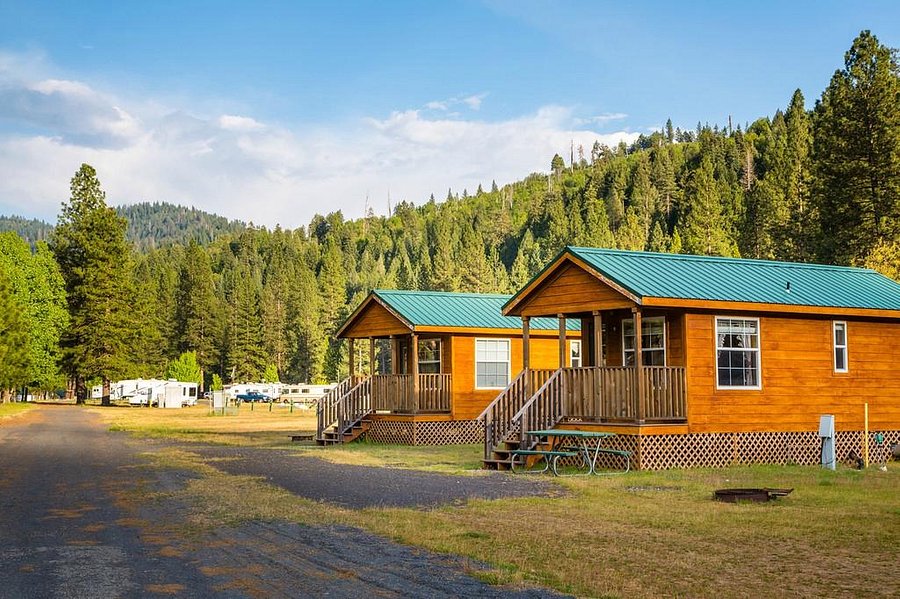 Yosemite's camping is well-known throughout the country. There are a total of 10 RV parks in Yosemite. Yosemite RV Resort is among the most convenient of RV parks around the national park. 
There are hiking and walking trails inside Yosemite National Park that the whole family will enjoy. This location also has swimming pools which will be a perfect way to cool off during those summer days. There are also many other amenities to help make your stay more comfortable.
Pros about Yosemite RV Park
About 30 minutes from Yosemite National Park
Different camping sites available–even cabins!
Has a playground and pool 
Can house larger RVs
Cons about Yosemite RV Resort
Nightly cost may be high for some
4. Jumbo Rocks Campground (Joshua Tree National Park)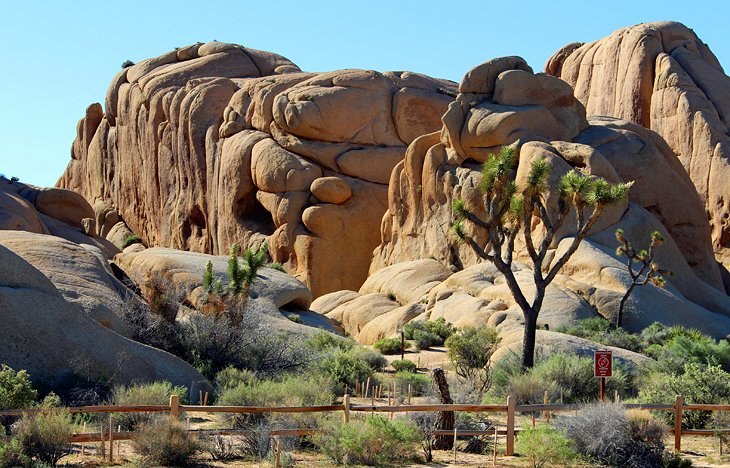 This national park is also in Southern California. Joshua Tree National Park is home to the yucca palms. 
Like many other national parks, Joshua Tree does not have full-hookups. That means Jumbo Rocks has vault toilets but not showers. The national park is rather vacant as a whole apart from the trees and boulders scattered about. 
There are many great sights to see in Joshua Tree. This includes the Cholla Cactus Garden, Key Views and Hidden Valley. It is perfect for hikers who enjoy remote areas. The nearest cities are more than 100 miles away. 
Pros about Jumbo Rocks Campground
Private grills and fire rings at each site
Great sights
Perfect for hiking
Vault toilets
Natural-looking landscapes
Cons about Jumbo Rocks Campground
Nearest cities are more than 100 miles away
No hook-ups
5. Campland on the Bay (San Diego)
This campsite has everything to do from kayaking to paddle boarding. There are also swimming pools and lagoons that make this the perfect summer destination. 
Campland on the Bay offers 500 paved RV sites with complete utility hooks. There are laundry and bathroom facilities. There is a game room, cantina, ice cream parlor and hot tubs. Boats are even welcome. A supersite is available for large families. 
There are endless amounts of amenities here. There is a skate park and concert stage. There is a staff that runs kids' programs that allow adults a moment to themselves. The resort itself is also just four miles from Mission Beach. It is also five miles from Old Town. La Jolla is a 15-minute drive. 
Pros about Campland on the Bay
Many amenities
Kayaking and paddle boarding available
Swimming pool and lagoon
Beach access
Full utility hook-up
Bathroom and laundry facilities
Boats are welcome
Cons about Campland on the Bay
6. Clio's River's Edge RV Park

This RV park offers 200 sites with full hook-ups with 30 acres of grounds. It is dog-friendly, so you and your family can enjoy your furry friends alongside your adventures. This park is also located on Feather River, so you will enjoy great scenery. 
There is free Wi-Fi and cable TV and other amenities like self-serve laundry. However, the river is rather shallow, so kayaking or paddle boarding will not be the best idea. For active people, there are hiking trails nearby. 
Pros of Clio's River's Edge RV Park
Dog-friendly
Free Wi-Fi and Cable TV
Self-serve laundry
Hiking trails nearby
Cons of Clio's River's Edge RV Park
Shallow river
No kayaking or paddle boarding
7. Boulder Creek RV Resort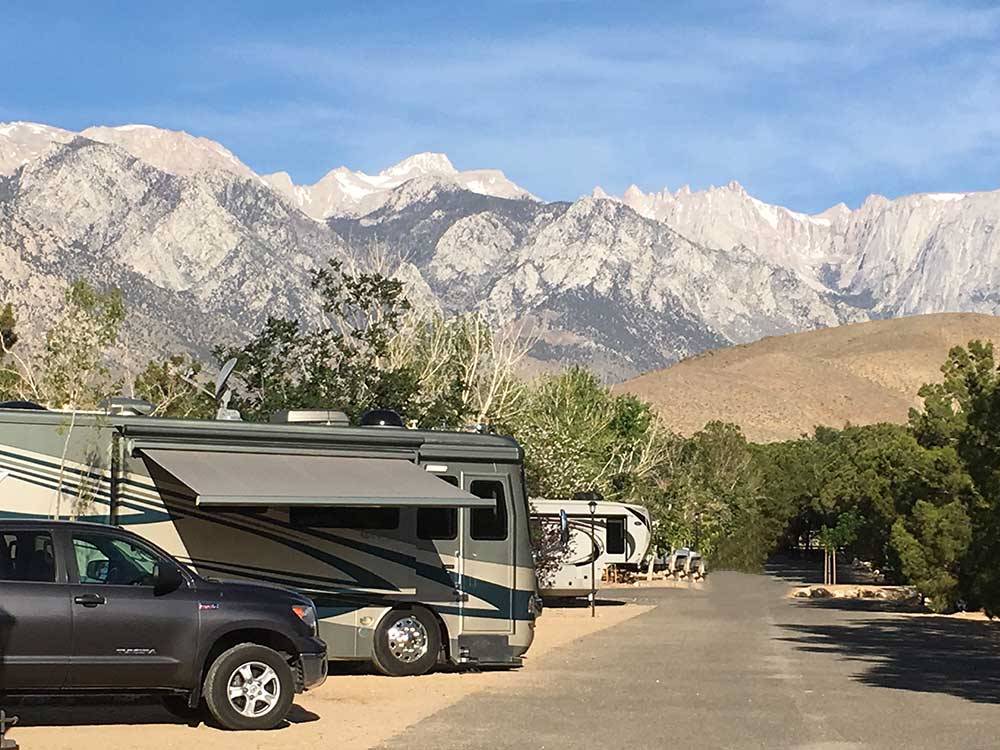 The Sierra Nevada Mountains are the backdrop to this RV resort. They offer spacious cabins with various bed sizes. They have a Boulder Creek Market with a pool and Jacuzzi. They welcome your pets alongside your family. 
This resort offers several amenities, including free parking, free Wi-Fi, laundry and children activities. There does seem to be less shade here in this resort. So, bring your umbrellas and sun hats to avoid sun exposure. 
Pros of Boulder Creek RV Resort
Pool and Jacuzzi
Laundry facilities
Free Wi-Fi
Spacious cabins
Cons of Boulder RV Resort
8. Sierra Skies RV Resort
This RV resort is by the Sierra Buttes and the Yuba River. There is a swimming hole for your family's convenience. This resort is also just a short walk to a shopping center with restaurants and local entertainment. There is also a general store for supplies and a history museum.
There are under 30 RV spots that sit along the Yuba River. This resort is also pet friendly, so bring your furry friends with you. Some of the facilities are a little aged. 
Pros of Sierra Skies RV Resort
Swimming hole
Convenient location
General stores
Pet friendly
Cons of Sierra Skies RV Resort
9. Flying Flags RV Resort & Campground
This resort and campground has unique accommodations for you and your family. They offer rentals, cabins and cottages. There are also luxury tents. 
There are several amenities including a swimming pool, playground and complimentary Wi-Fi. There is also easy access to popular attractions and destinations. There is a local winery with wine tastings. There is a charming town right next to this resort that offers many opportunities. 
Pros of Flying Flags RV Resort & Campground
Free parking
Pool
Bar and lounge
Free Wi-Fi
Fitness center
Children's playground
Cons of Flying Flags RV Resort & Campground
Some guests have complained about poor service leading up to their stay
10. Crystal Cove State Park (El Moro Canyon Campground)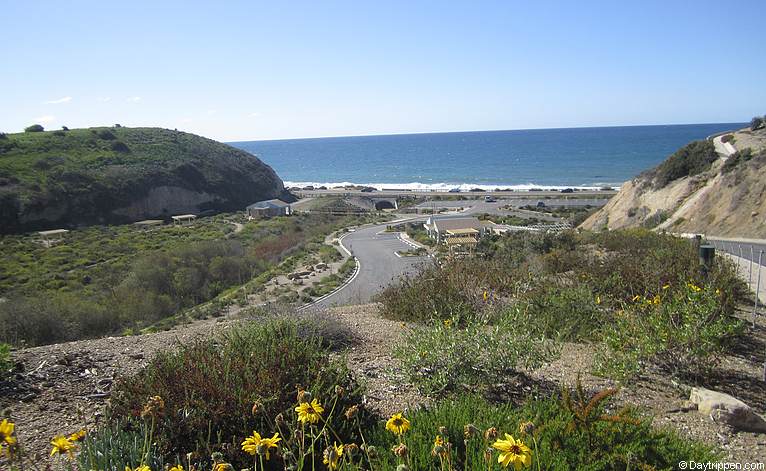 This state part is a beautiful beach location with crystal blue waters and gorgeous scenery. An underwater park is nearby for the entire family to enjoy. 
The campgrounds are in view of the beach itself. There are a variety of camp spots as well. 
Pros about Crystal Cove
Ocean view is everywhere
Many hiking trails at the campsites
Beach access close by
Large campsites
Cons about Crystal Cove
Very sunny (perhaps bring an umbrella or canopy for shade)
No campfires allowed
Frequently Asked Questions
How much does it cost to camp in California?
RV parks can range from $44 per day to $99 per day. Much like any other hotel or venue, the more the amenities the camp holds, the more expensive it costs. 
In many of these camps, you can pay for weekly stays instead of daily costs. That will range from $300-$500. Sometimes, camps often offer a relative discount for weekly stays. The price will also depend on the time of the year.
How long can you stay at an RV Park in California?
Some parks offer long-term rental places at a lower price. Each park will have their own policies surrounding how long a stay can last. To find out, call the RV park near you to see their policies.
If you are planning a summer trip to California, there are many RV parks to choose from. Multiple RV parks come in with amenities that your family will love. Summer is the time to make memories with your family. California RV parks help you do just that. Check out some parks that your family will love. There is something for everyone!