---
The Country Waye Campground
Stories from the Spiritual Traveler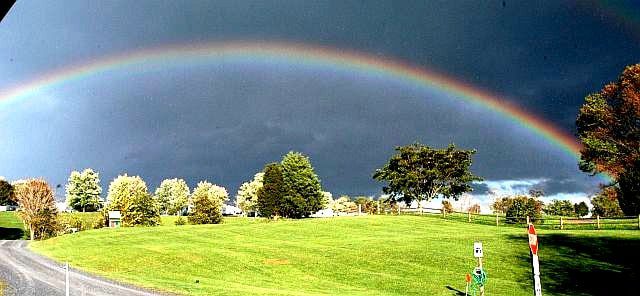 There are two things that every business today needs to prosper. They are heart and energy.
By heart, I mean the ability to connect with customers in a way which moves them . It's a thoroughly people thing. A skill which has the customer enjoy the experience and want more of it.

By energy, I mean the location or environment where the experience is had, In the old days, it used to be said that location was everything, but location without heart often leaves a customer feeling cold and disappointed.

And so, this week I discovered a campground in Virginia which has both in ample quantities. Owned and run by Erich and Shulamit Schumacher who provide a living example of how to combine heart and energy to make a successful business.

When they first set eyes on Country Waye Campground, Shulamit describes the feeling of knowing that this was THE place for her. You know the feeling of having been to the place before, well that's how she felt.
Perched in the Shenandoah Valley, it's just a few miles from lots of attractions and places of historical importance. Yet it's a million light years away from these too.
As I sit writing this piece, a number of gloriously colored birds have visited my camping patch to say hello. Their song is of happiness, wonder and expectation. They uplift my soul.
Over in the far corner, a small herd of cows have taken shelter from the sun under a large tree. Periodically their conversation interrupts the bird's singing. But, you know, there's room for both here.
The greenery of the scene around me is also awesome to behold. How did so many shades of green get invented Who put all of them here, within my sight, to enjoy?
And so the energy of this place is strong, vibrant, beautiful and calming. A place where I can be lost in my own thoughts one moment and steeped in history the next.
But it takes special people to harness and energy so pure and turn it into something special for us consumers to enjoy.
Erich and Shulamit are just such people. When we asked about campgrounds at the nearby Shenandoah National Park Visitors Center, a park employee mentioned Country Waye as a place she liked. When I asked her what it was she liked about, here's what she said:
"I've never stayed there but when I pass by, it has a really nice feel to it"
And it has. In our two years of travelling the world full time, we've learned to sniff out a great place as we approach the entrance. The energy and heart of a business transmits way beyond it's immediate physical location and this one does in abundance.
Erich and Shulamits' hearts sing out in this place in a number of ways:
I love the grounds. They are carefully and beautifully tended and the view is magical.
We were greeted with smiles the minute we arrived – and they lasted all through our visit
The bathrooms are spotless and homey
The play areas have been carefully positioned so that the active don't get in the way of the resting!
Herbs from the herb garden were available to us
Plans for the future are exciting
But heart is more than just a list of the things I've experienced whilst being here. Heart is about the love people give when serving their customers. And this is where Erich and Shulamit excel. It's done effortlessly and genuinely and without conditions.For those who've forgotten what it's like to be on the receiving end of that sort of service, it's worth coming here to remember that alone!
Some Local History of Page County
The Gettysburg RetreatDuring his retreat after the defeat at Gettysburg (July 1-3), Confederate General Robert E. Lee led his Army of Northern Virginia into the Shenandoah Valley. During the last week of July 1863, Lee encamped on the section of Pass Run just 2 miles east of here while waiting for his rear guard to arrive. He then ordered Jubal Early's corps to move south along the Valley Pike (modern day US 11) while Lee took the main body of his army north to Front Royal on what is now US340. At Front Royal, Lee detached a division to engage Meade's Union Army in Manassas Gap (where I66 now crosses the Blue Ridge) in a delaying action which was the last engagement of the Gettysburg Campaign. This successful delaying action, allowed Lee to move the main body of his army into the Luray area in safety.

When Early's corps crossed the New Market Gap into the Luray Valley (now the route of US211), his rear guard disengaged at Manassas Gap and rejoined the main body of Lee's army. Lee led the reunited Army of Northern Virginia across the Blue Ridge, through the mountain gaps in Page County, and returned to the Virginia Piedmont, thus ending the Gettysburg Campaign. During Lee's stay here, and during other Civil War actions in this area, the old church on Kimble Road just east of here was used as a hospital.
---
Custer's Last Charge in Page CountyOn November 24. 1861, Merrit's Union cavalry, acting on orders from General Philip Sheridan, moved south from Front Royal into the Luray Valley with the goal of clearing the Confederate forces from Page County. The Union troopers encountered the first Confederate pickets at Rileyville, and a running fight ensued which ended near here at the Confederate positions along Pass Run. Union Brigatier General George Armstrong Custer led his brigade in one of his trademark charges, which broke the Confederate line and began a "race" between blue and gray horsemen from Pass Run, through Luray and into the New Market Gap. This was the last Civil War engagement in Page County.
---
A Page County HeroineNear this spot in 1814. a remarkable African American named Bethany Veney was born a slave. Bethany spent a lifetime working her way toward freedom. She convinced her Page County masters to allow her to perform extra work for pay, and to keep a portion of her wages. She worked as a domestic servant and as a cook for road construction crews. saving for the day when she would be free. Finally, hired to cook for northern copper speculators, Bethany convinced them to buy her and her infant son into freedom for $600. The men took her and her son Joe, north in 1858, where she worked as a domestic servant to repay her freedom price. Bethany was married twice. Her first husband, Jerry, also a slave. was sold south. Her second husband, Frank Veney, was a free man, but as a slave, Bethany wasn't allowed to live with him. Their baby son died free in Massachusetts. soon after he and his mother arrived. After the Civil War. Bethany returned to Page County and took her daughter, from her first marriage, and her daughter's family back to Worchester Massachusetts, to live in one of the two houses she now owned. A devout Methodist, Bethany also performed many kind acts for her former masters in Page County, who had fallen on hard times after the war.